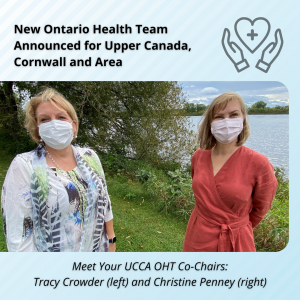 September 27th, 2021 | Great news for the area! The CSCE has officially been approved to be part of the Upper Canada, Cornwall and Area Ontario Health Team (UCCA OHT), alongside 32 other partners from across the region – working as one to improve healthcare in the United Counties of Stormont, Dundas and Glengarry, City of Cornwall, Akwesasne, parts of Russell Township and rural Southeast Ottawa.
What is an Ontario Health Team (OHT)?
OHTs provide better integrated care by breaking down barriers that may exist between health-care providers and geographic areas. They combine various health services, including physicians and nurse practitioners, hospitals, home and community care, community support services, mental health and addictions services, community health centres, and long-term care.
The intent, when the Upper Canada, Cornwall and Area OHT is at maturity, is that local people will experience easier transitions from one provider to another, including, for example, between hospitals, home care providers or long-term care homes, with one patient story, one patient record and one care plan.
The vision of the Upper Canada, Cornwall and Area Ontario Health Team is "Where everyone's health and well-being matters!"
Learn more: