September 25, 2019 – It is with great pride and enthusiasm that Mr. Philippe Ryan, Mr. Jean-Benoit and Mrs Julia Robillard, Mr. Marc Bisson, Mr. Ankit Shah and Dr. Konrad Binder invite you to the official inauguration of Place 649 on October 24th at 649 Notre-Dame St. in Embrun, at 5 p.m.
Come and learn about the businesses and organizations that are housed in these new facilities in Embrun. In addition to being able to visit the new spaces of Place 649, you will have the opportunity to network with members of the business and rural community of Eastern Ontario and enjoy a cocktail buffet and music.
Place 649 brings together five Eastern Ontario businesses and organizations: the Centre de santé communautaire de l'Estrie (CSCE), Embrun Smiles Family Dentistry, the insurance and investment firm The Co-operators | philryan.ca, Notre-Dame Pharmacy and Robillard Hearing Centre.
Please confirm your presence before October 21st by registering at: https://place649_inauguration.eventbrite.ca.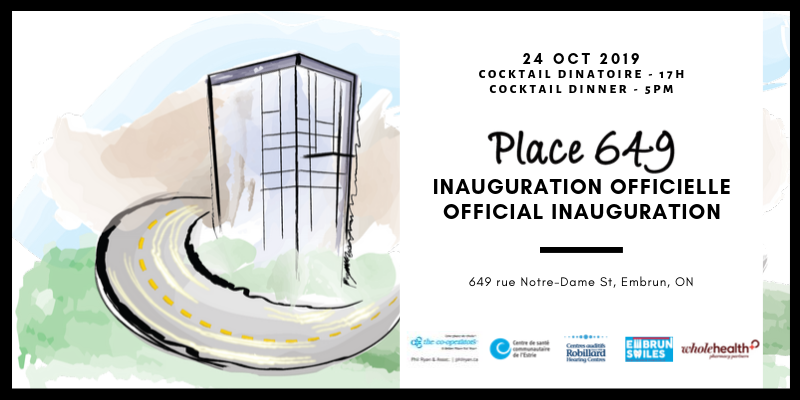 For more information, send us an email at [email protected].