Our qualified doctors and nurse practitioners use a patient-centered approach to help clients maintain their health.
The most common reasons for consultations are prescription renewals, chronic diseases, including type 2 diabetes, regular medical check-ups, etc.
What is a nurse practitioner?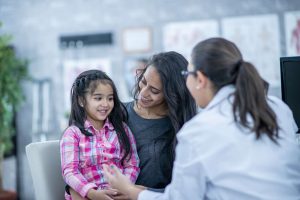 A nurse practitioner (NP) is a registered nurse who has completed advanced university studies and who works both independently and in collaboration with other health professionals to provide quality health care services. NPs help to keep their clients, their clients' families and communities healthy. They provide care for people of all ages, with an emphasis on disease prevention.
As a member of your health team, NPs can diagnose and treat diseases and injuries, carry out health examinations, request and interpret diagnostic tests, provide counselling and educational information, provide treatment, request interventions, refer clients to other health professionals and specialists, prescribe medications, manage chronic diseases, such as diabetes, obstructive pulmonary disease and asthma, and much more!
How to prepare for a doctor's or nurse practitioner's appointment (PDF – in French only)
CSCE nurses are qualified to take blood samples, give injections, administer vaccines, apply and change bandages, remove stitches, performe physical examination related tasks,  as well as give health advice to clients.
Also, if you suddenly feel ill, you can call the CSCE and a nurse will help you decide if you need to visit a health care professional. If you must do so the same day, the nurse will give you an appointment with the most appropriate health care professional.
Every fall, the CSCE holds seasonal flu vaccination clinics.  Priority is given to CSCE clients but the vaccine is also available for the general public.
Vaccination remains the best way to protect yourself against the flu.  Be sure to get vaccinated to protect your health and that of those around you.
Come meet a dietitian to get personalized advice on healthy eating. For more details on these free services, please visit our Nutrition page.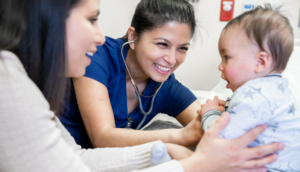 Through the Healthy Baby Program, a nurse practitioner provides a comprehensive assessment of baby and preschool and school-aged children up to the age of 6.
The child is seen for his or her initial visit in the first 7 to 10 days following birth, and according to the Ontario immunization schedule thereafter. During these visits, the child's language skills, and fine and gross motor skills are assessed.
The nurse practitioner assesses the child's coping skills and development, as well as parenting skills using a variety of screening questionnaires.
The Healthy Babies program also includes consultations with a dietitian.
Doctors and nurse practitioners can go to the homes of certain patients when they have medical conditions that prevent them from receiving care at the CSCE. An assessment is required to determine whether a patient is eligible for this service.