Over the past few decades, an increase in the aging of the population has been observed. Seniors are growing in number and are living longer. However, they are more likely to have limitations, falls and require care.
To meet this need, the Centre de santé communautaire de l'Estrie (CSCE) will be offering, as of January 2023, a new telehealth program MARCHE VERS LE FUTUR (MVF). MVF is a unique falls prevention initiative designed for sedentary French-speaking older adults 55 +. Two free groups will be offered – a hybrid group in Cornwall (indoor participants) and a second virtual group (at-home participants).
HYBRID GROUP IN CORNWALL (INDOOR PARTICIPANTS):
Thursday from 1:30 to 3 p.m.
January 12 to March 23, 2023
Health Promoter: Tania Sveistrup ([email protected])
or
ONLINE VIRTUAL GROUP (AT-HOME PARTICIPANTS): 
Tuesday from 1:30 to 3 p.m.
January 10 to March 21, 2023
Health Promoter: Sylvain Thibault ([email protected])
MVF is a 12-week program that aims to reduce the risk factors responsible for falls in the elderly and to improve access to health services.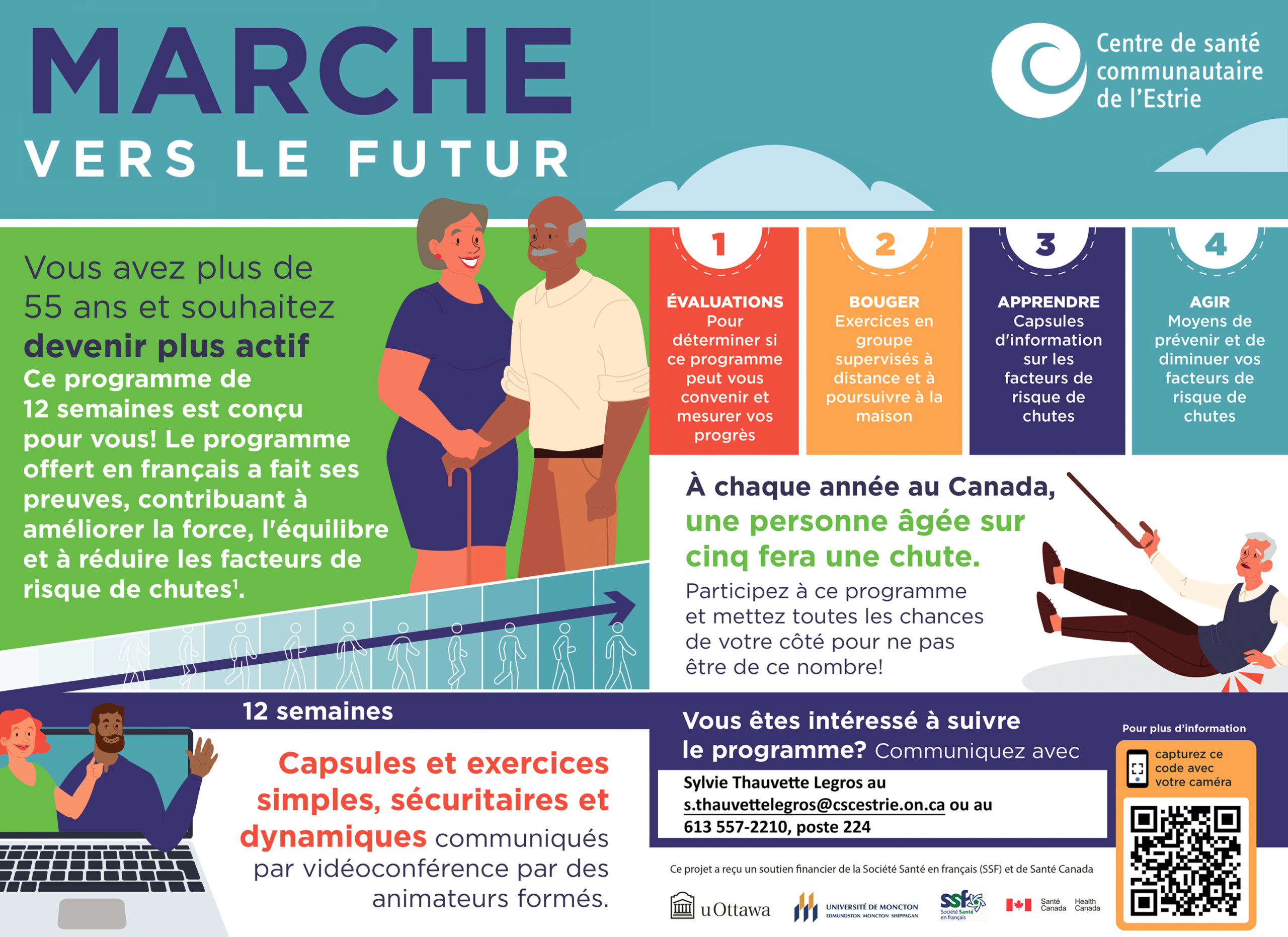 The main objectives are:
to improve knowledge of the risk factors for falls;
to improve static and dynamic balance;
to increase the muscular strength of the lower extremities;
to counter isolation while encouraging healthy lifestyle habits such as regular physical activity.
The MVF program includes:
information capsules on preventing falls and ways to act on modifiable risk factors;
exercise sessions (once a week for 12 weeks);
an exercise program to be done independently at home.
For more information, contact Sylvie Thauvette Legros at [email protected] or 613 557-2210 #224.