Cornwall, January 26, 2023 –  Since the beginning of January, the Centre de santé communautaire de l'Estrie (CSCE) is doing its part to reduce overcrowding in emergency room by offering more availability to its primary health clients for urgent or semi-urgent appointments through the "NP Emergency Clinic Project".
These emergency appointments, which are mostly virtual or by telephone, are available to all CSCE primary health clients, regardless of where they normally receive services. For example, a client from the Embrun CSCE with sinusitis symptoms may access to a virtual emergency appointment with a nurse practitioner (NP) located the Cornwall CSCE.
Usually, appointments are available on Mondays and Fridays, and sometimes even on weekends. It is also important to note that some consultation reasons require an in-person visit. If necessary, at the request of the NP, clients will be asked to go to their local CSCE site to provide a sample or to complete a test.
We would like to extend a warm thank you to the four CSCE nurse practitioners who responded to the call to provide more availability for these emergency appointments, and better meet the needs of underserved communities in Eastern Ontario.
Photo: Marie-Eve Poliquin, Nurse Practitioner at Cornwall CSCE
Cornwall, January 24, 2023 – In recent weeks, the Centre de santé communautaire de l'Estrie (CSCE) has been recognizing the exceptional contribution of its volunteers from each of its sites. Whether through programs such as the Green Food Box, vaccination clinics or ongoing involvement in exercise or recreational activities, the CSCE volunteers are an endless source of solidarity and compassion for the communities of Eastern Ontario.
In appreciation of their time and dedication to the well-being of the community, the CSCE's Community Health Team hosted several events in December and January, highlighted by expressions of appreciation, team-building activities and door prizes. In all, more than 30 CSCE volunteers were honoured during these events.
For Marc Therrien, Manager of Community Health and Mental Health Programs at the CSCE, it was essential to recognize the contribution of our volunteers following the pandemic: "It's so nice to see you in person, finally! This event is an important step as we return to a more normal life that we enjoyed so much before the COVID-19 crisis. To maintain good community health, we need vibrant relationships that keep us going. Thank you to all the volunteers working at CSCE and keep it up!"
An integral part of the CSCE's successes, the talent, time and energy that these persons devote to volunteering enhance the quality of the services offered. CSCE's volunteers provide precious support for many programs and activities, including:
Vaccination clinics
Cards/knitting/sandbag clubs
Community gardens
Support groups
Green Food Box program
Exercise programs/badminton/walking clubs
Pictures of the Activities
Volunteer Recognition held on December 7 at the Cornwall CSCE:

Volunteer Recognition held on December 21 at the Bourget CSCE: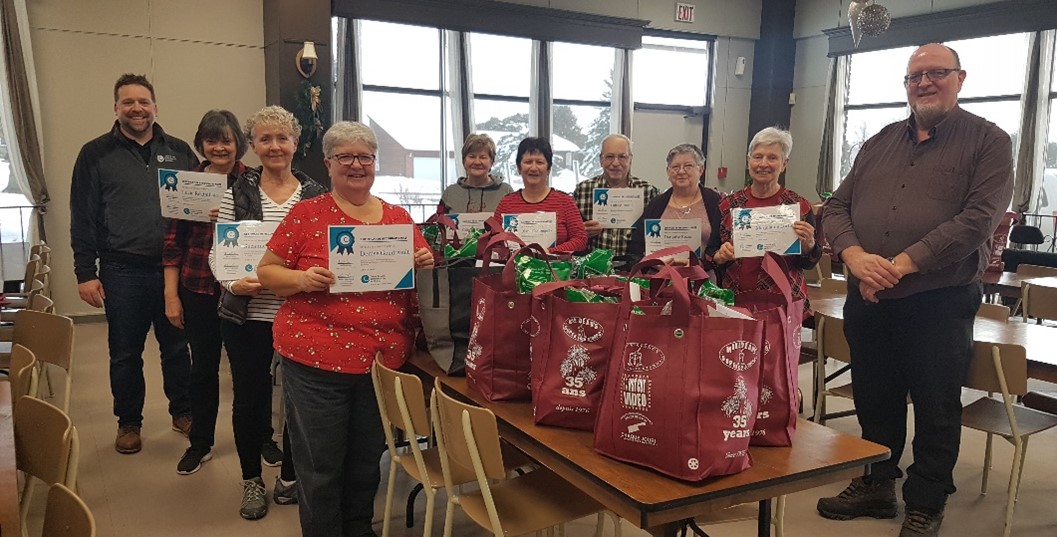 Volunteer Recognition held on January 18 at the Crysler CSCE: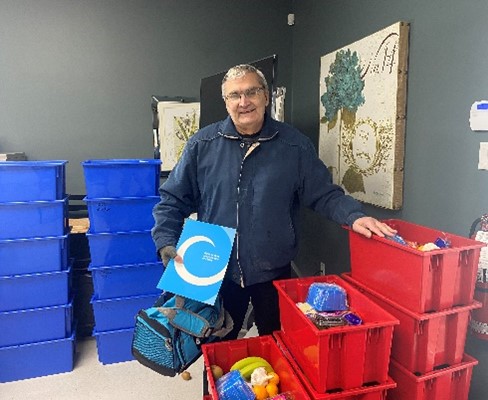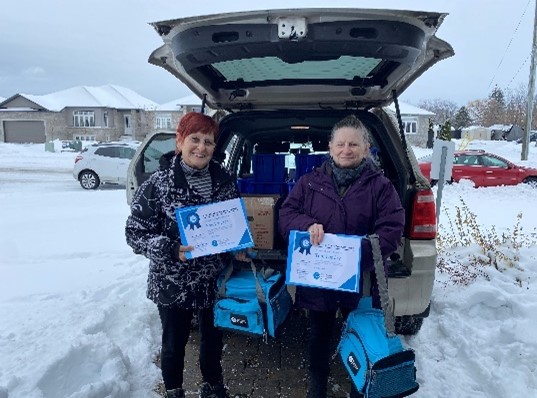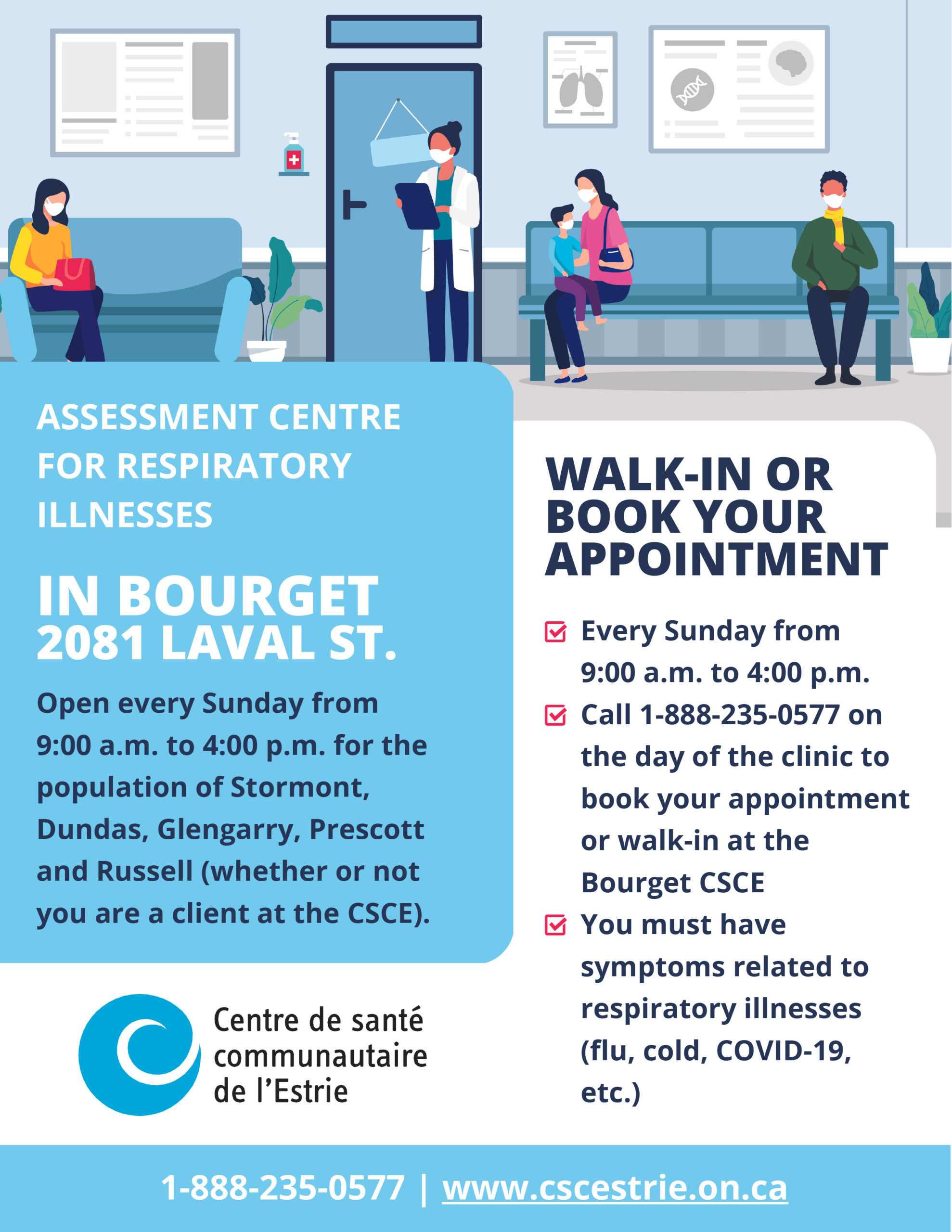 Since January, the Centre de santé communautaire de l'Estrie (CSCE) operate a WALK-IN or BY APPOINTMENT Clinical Assessment Centre (CAC) for respiratory illnesses at its Bourget location (2081 Laval Street). The clinic is open every Sunday and is only for the evaluation of respiratory illnesses for the population of Stormont, Dundas, Glengarry, Prescott and Russell, without age restrictions.
Whether or not you are a client at the CSCE, you can call 1-888-235-0577 on the day of the clinic to book an appointment or walk-in at the Bourget CSCE on Sundays from 9:00 a.m. to 4:00 p.m. The staff assesses respiratory symptoms, orders tests as needed (blood tests, X-rays, various samples for influenza or COVID-19, etc.), and then prescribes medication if needed. A follow-up is made by phone for all clients who test positive or negative.
The clinic operates on a first-come, first-served basis. However, it is also possible to call 1-888-235-0577 on the day of the clinic to book an appointment. When the day's capacity is reached, people are referred to other services.
It is important to note that this clinic focuses on respiratory illnesses only. Community members without any of the symptoms listed below will be redirected. The clinic will not accept clients living in the urban Ottawa area, as equivalent services are available in their community.
The Centre de santé communautaire de l'Estrie is doing its part to reduce overcrowding in emergency room by offering this clinic to underserved communities in Eastern Ontario. We would like to extend a warm thank you to all those who responded to the call to provide these clinical assessment services at our Bourget location.
Clinical Assessment Centre (CAC) – What do you need to know before visiting?
What is a clinical assessment centre (CAC)?
A clinical assessment centre is a medical clinic that can test, assess, and provide treatment for people with COVID-19 and other cold and flu-like illnesses.
What are the symptoms of COVID-19 and other cold and flu-like illnesses?
Below are some of the symptoms you may have when you have COVID-19 or other cold and flu-like illnesses:
Fever or chills
Cough (not related to other causes such as allergies)
Difficulty breathing
Decreased or loss of taste or smell
Runny nose or nasal congestion
Headache
Extreme tiredness
Sore throat
Muscle aches or joint pain
Gastrointestinal symptoms (such as vomiting or diarrhea)
Abdominal pain (not related to other causes)
Pink eye (not related to other causes)
When should I visit a clinical assessment centre (CAC)?
Call your primary care provider (family doctor or nurse practitioner) first if you or your child have the symptoms above and feel that you need medical care.
Your primary care provider will give you advice about what to do next. This may include:
Caring for yourself or your child at home
Seeing your primary care provider either virtually or in-person
Going to a clinical assessment centre
Consider visiting a clinical assessment centre if:
You do not have a primary care provider
Your symptoms or your child's symptoms are getting worse or are not improving, and you feel that you need medical care
You have been told by any health professional to go to a clinical assessment centre
You are at high risk of getting very sick from COVID-19 and you qualify for COVID-19 testing and treatment
You can also consider contacting Health Connect Ontario or a walk-in clinic. At Health Connect Ontario, you can get advice from a nurse at any time of day by calling 811 or by online chat at ontario.ca/HealthConnectOntario.
You might also find this tip sheet made by family doctors helpful. It provides tips on deciding when to seek care for a child with respiratory illness and how to support your child at home.
Will I get antiviral treatment if I have COVID-19?
Antiviral treatment is available for people who are at high risk of getting very sick from COVID-19. Use this screener to see if you are eligible: ontario.ca/covid-treatment-screener.
If you are eligible and think you might have COVID-19, don't delay. You will need to start treatment within 5 days. Call your primary care provider, go to a clinical assessment centre, or contact Health Connect Ontario by calling 811 or by online chat at ontario.ca/HealthConnectOntario.
When do I need to go to the emergency department? 
If you or your child develop severe symptoms, call 911 or go to the emergency department.
For adults, severe symptoms include:
Shortness of breath
Chest pain
Loss of consciousness
Confusion
For children, severe symptoms include:
Working hard or straining to breathe – for example, the lower chest is moving in more than normal when the child breathes, the child is grunting, or the child's nostrils are flaring
Bluish skin
Unable to breastfeed or drink
Very sleepy or difficult to wake
Peeing less than usual
Fever with rash
Seizures or convulsions
Fever in an infant younger than 3 months
If you are worried your child is seriously ill, call 911 or go to the emergency department.
Did you know that most respiratory illness, including colds, influenza, RSV (respiratory syncytial virus) and COVID-19, can be managed at home without the need for prescription medications?
The Government of Ontario is sharing the following resources regarding respiratory illnesses:
Please consult the links below for more information:
Family Doctor Tips on Caring for Children with Respiratory Symptoms
Click here to read family doctors tips on how to decide when to seek care for a respiratory illness and how to support your child at home (source: Ontario College of Family Physicians).
If you have trouble obtaining pediatric acetaminophen (Tylenol) or ibuprofen (Advil), it is possible to prepare appropriate doses for a child with adult tablets. Please consult your pharmacy or health professional at your next appointment.
Cornwall, December 5, 2022 | After two years in virtual mode, the Centre de santé communautaire de l'Estrie (CSCE) was very excited to finally hold its annual auction in person on Thursday, December 1 at the Bonnie Glen Pavilion in Alexandria. This fundraising event, which is particularly important to our clients during these difficult times, allowed our employees and board members to raise a whopping $11,326, helping more than 140 families.
For almost 20 years now, the employees at the CSCE have held this annual auction to raise funds for clients who face financial challenges. 75% of the money raised will be used to buy gift cards, which will be distributed to individuals and families living in our communities. We are so pleased that this initiative can bring some solace to those in need during the holidays throughout the counties of Stormont, Dundas, Glengarry, Prescott and Russell. The remaining 25% is reserved for needs that may occur throughout the year.
Congratulations and a sincere thank you to all those who made this fundraiser a huge success!
Pictures of the event
Over the past few decades, an increase in the aging of the population has been observed. Seniors are growing in number and are living longer. However, they are more likely to have limitations, falls and require care.
To meet this need, the Centre de santé communautaire de l'Estrie (CSCE) will be offering, as of January 2023, a new telehealth program MARCHE VERS LE FUTUR (MVF). MVF is a unique falls prevention initiative designed for sedentary French-speaking older adults 55 +. Two free groups will be offered – a hybrid group in Cornwall (indoor participants) and a second virtual group (at-home participants).
HYBRID GROUP IN CORNWALL (INDOOR PARTICIPANTS):
Thursday from 1:30 to 3 p.m.
January 12 to March 23, 2023
Health Promoter: Tania Sveistrup ([email protected])
or
ONLINE VIRTUAL GROUP (AT-HOME PARTICIPANTS): 
Tuesday from 1:30 to 3 p.m.
January 10 to March 21, 2023
Health Promoter: Sylvain Thibault ([email protected])
MVF is a 12-week program that aims to reduce the risk factors responsible for falls in the elderly and to improve access to health services.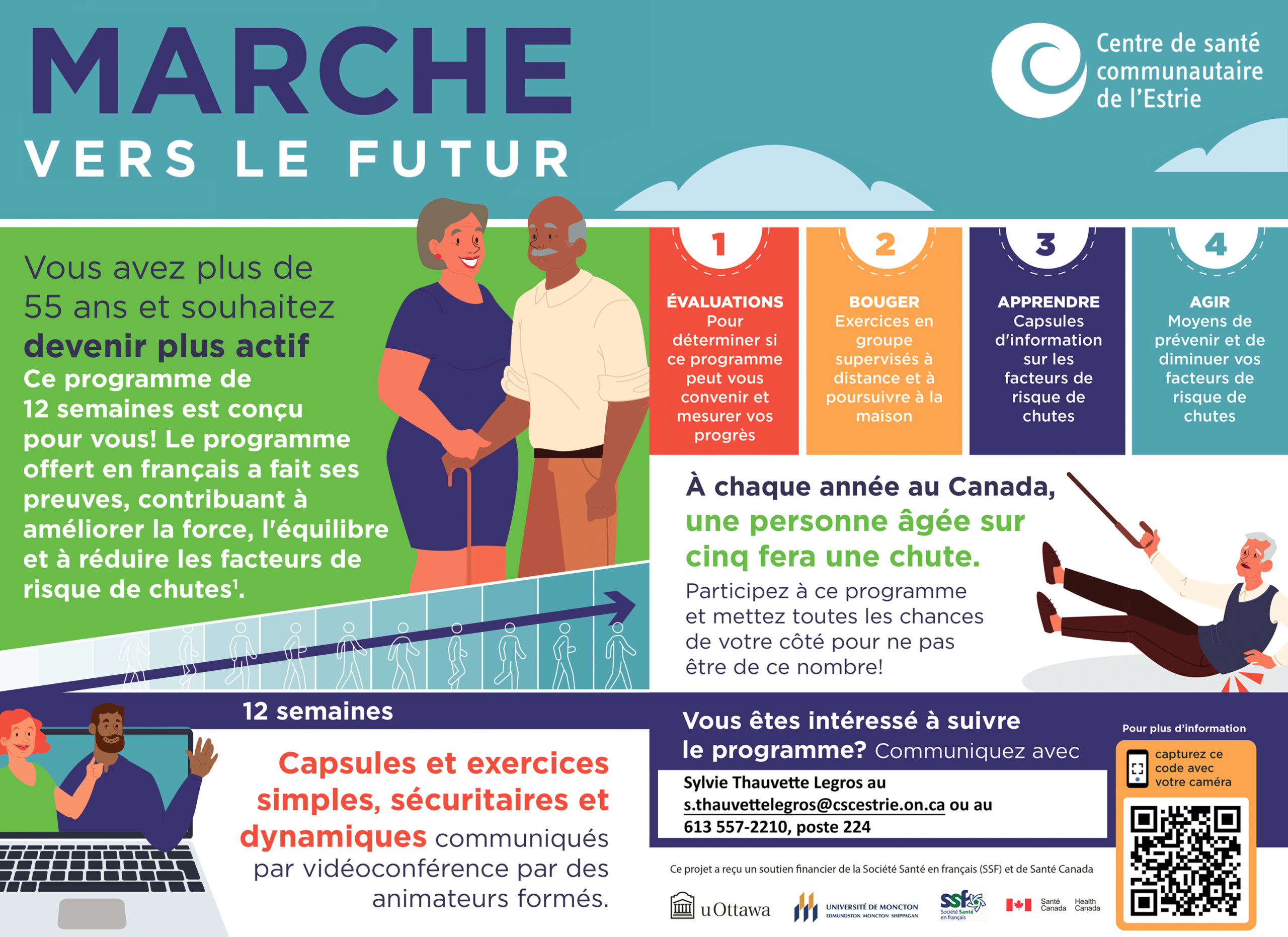 The main objectives are:
to improve knowledge of the risk factors for falls;
to improve static and dynamic balance;
to increase the muscular strength of the lower extremities;
to counter isolation while encouraging healthy lifestyle habits such as regular physical activity.
The MVF program includes:
information capsules on preventing falls and ways to act on modifiable risk factors;
exercise sessions (once a week for 12 weeks);
an exercise program to be done independently at home.
For more information, contact Sylvie Thauvette Legros at [email protected] or 613 557-2210 #224.
Education to protect tomorrow is the theme of World Diabetes Day 2022, the second year of the 2021–23 focus on access to diabetes care. This year's campaign focuses on the need for better access to quality diabetes education for health professionals and people living with diabetes.
What is diabetes?
Diabetes is a chronic disease in which the body either cannot produce insulin or cannot properly use the insulin it produces. Insulin is a hormone that controls the amount of glucose (sugar) in the blood. Diabetes leads to high blood sugar levels, which can damage organs, blood vessels and nerves. The body needs insulin to use sugar as an energy source.
At this time, researchers do not yet know how to prevent type 1 diabetes. However, type 2 diabetes can be delayed or prevented. If you have risk factors for type 2 diabetes, there are things you can do to reduce your risk of developing diabetes. Better food choices, regular exercise, and maintaining a healthy weight will help.
November 14th
The International Diabetes Federation (IDF) and the World Health Organization (WHO) started World Diabetes Day in 1991 in response to the escalating health threat posed by diabetes. It has since grown to become a globally celebrated event and an official United Nations (UN) awareness day. It is now the world's largest diabetes awareness campaign.

Diabetes: education to protect tomorrow #EducationToProtect
One in 10 adults around the world now live with diabetes, an estimated 537 million people. Almost half do not know they have it. This is putting added strain on healthcare systems.
Healthcare professionals must know how to detect and diagnose the condition early and provide the best possible care.
People living with diabetes need access to ongoing education to understand their condition and carry out the daily self-care essential to staying healthy and avoiding complications.
IDF is committed to facilitating learning opportunities for all people impacted by diabetes. The Understanding Diabetes platform provides free online and interactive courses to help people with diabetes and their carers to understand and manage their condition.
Diabetes facts and figures
537 million adults (1-in-10) have diabetes
The number of people with diabetes is expected to rise to 643 million by 2030
1-in-2 people with diabetes remain undiagnosed
4 out of 5 people with diabetes live in low and middle income countries
Diabetes caused 6.7 million deaths in 2021
Diabetes caused at least $966 billion in health expenditure in 2021
CSCE Diabetes Education Program
The Centre de santé communautaire de l'Estrie's (CSCE) Diabetes Education Program allows all people with diabetes or prediabetes to learn the skills they need to take an active role in managing their condition daily. The Diabetes Education Program team is made up of a dietitian and a nurse whose mandate is to teach people with diabetes to take charge of their health and manage their disease. To do this, one group session along with personalized follow-ups are offered on topics. The program is available at our Alexandria, Bourget, Cornwall and Embrun locations.
To know more about Diabetes, visit www.worlddiabetesday.org or www.diabetes.ca.
Community Health and Wellbeing Week celebrates CSCE's work to confront inequity in support of health and wellbeing
Cornwall, October 17, 2022 – From October 17 to 23, the Centre de santé communautaire de l'Estrie (CSCE) is celebrating its continued work along with partners in Eastern Ontario to confront inequity in support of equitable health for everyone living here. We have some activities planned for the week, and you can learn about them here: www.facebook.com/cscestrie.
Confronting Inequity and Celebrating Community is the dual focus of Community Health and Wellbeing Week this year all across Ontario
This week, we pause to celebrate innovative and relentless work in Eastern Ontario, alongside other community-based organizations, grassroots teams, local leaders and community health champions across the province. Health inequities made apparent to many and worsened by the pandemic, particularly for people already marginalized in society, demand strong, locally-driven and led responses. When we confront inequity locally together, that's what makes it possible to celebrate community.
"It's only by confronting inequity, in our everyday work, at our organization and in its policies, and in advocating for system change, that we can truly meet the needs of everyone in our community," says Marc Bisson, Executive Director. "Real change for marginalized people and communities takes shape when we start to examine, shift and replace policies, procedures, and other forms of the status quo of oppression that perpetuate and reproduce vulnerable conditions, instead of blaming the people who endure inequities. Here at the CSCE, we celebrate our community's efforts to achieve real change."
In Eastern Ontario, confronting inequity is shown in changing needs of Francophone and vulnerable communities, including seniors and youth. We're also always focused on increasing access to the highest quality comprehensive primary health care available. To do that, we're turning to local leaders to ensure that we get the support required to meet the health needs of everyone in our community who is looking for support.
"We need all local leaders' support to meet the increasing needs here in Eastern Ontario," says Bisson. "We need leaders and governments who demonstrate that they will invest in local innovations and leverage the strengths of community voices and leadership needed to support equitable health for everyone."
Background
Community Health and Wellbeing Week is coordinated by the Alliance for Healthier Communities of which Centre de santé communautaire de l'Estrie is a member. The Alliance represents more than 100 Community Health Centres, Indigenous Interprofessional Primary Care Centres and Teams, Community Family Health teams and Nurse Practitioner-Led Clinics across Ontario.
It's flu season!
Vaccination is the best defense against the spread of flu.
It's more important than ever to get your flu shot. Get ahead of the game and plan to get your flu shot now. Call us to make an appointment with the nurse.
Flu is a serious infection that can result in severe complications. Nobody is safe from the flu. Your best means of defense against the flu is vaccination.
Vaccination is provided to our clients and is free of charge.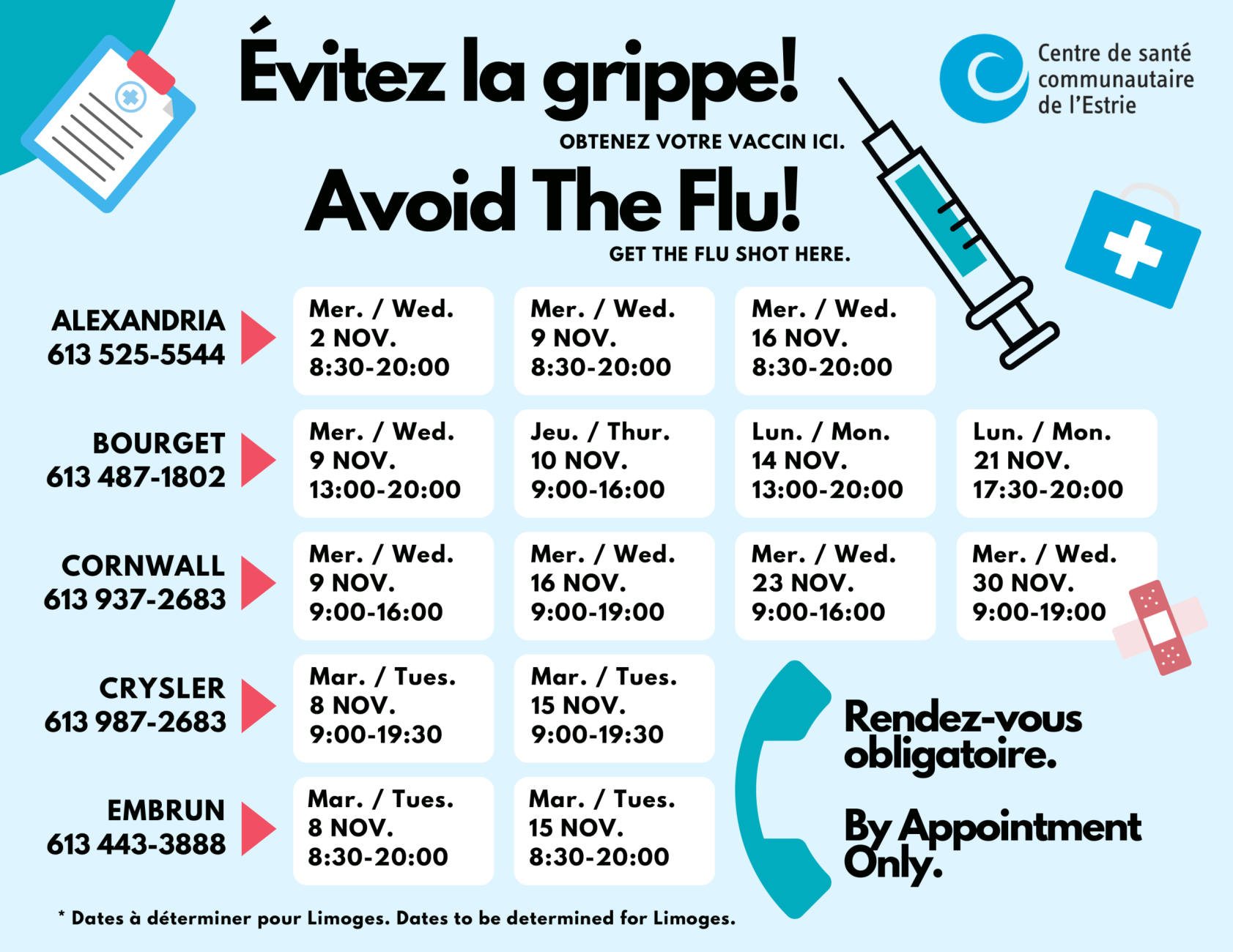 ---
Getting vaccinated against the flu means protecting yourself!
For more details about the flu, please go to the MOHLTC Website and learn about the virus and recognize the symptoms.
The City of Cornwall's Senior Friendly Community Committee is happy to announce their 2022 Aging Well: Senior Health and Safety Fair. The fair is taking place on Wednesday, September 28th from 11 a.m. to 6 p.m. at the Benson Center in Cornwall. 
This free event is open to everyone and will showcase services and programs for seniors and their caregivers. With 40 exhibits and 15 workshops focused on aging well, there is certain to be something for everyone.
"Aging well is prolonging our autonomy and guaranteeing the desired quality of life." Bernard Lamarche, Chair of the Senior Friendly Community Committee.
Opening ceremonies will be held at 1 p.m. in the Automotive room and will be followed by Keynote speaker James Conklin, PhD. Author, educator, scientist, and consultant,  he currently leads a study of how long-term care homes are coping with change during the COVID-19 pandemic.
Bilingual workshops are scheduled throughout the day on topics such as movement and nutrition for wellbeing, the power of laughter, brain health, retirement living options and so much more. Exhibitors range from senior clubs, education and volunteer opportunities, municipal services, senior living homes, recreation programs, etc.
Food and monetary donations will be accepted for the Agape Center.
To learn more about exhibitors, workshop schedules and topics please visit www.cornwall.ca/seniorfair/.
This event is funded in part by the Government of Canada's New Horizons for Seniors Program.